Life & Health Insurance Pre-licensing Course
For years, TESTivity has offered the most comprehensive online training programs that guarantee you will be prepared to pass your L&H exam on the first attempt. Our Virtual Learning Experience replicates the live classroom environment with the addition of learning tool only available though the more modern approach of online learning.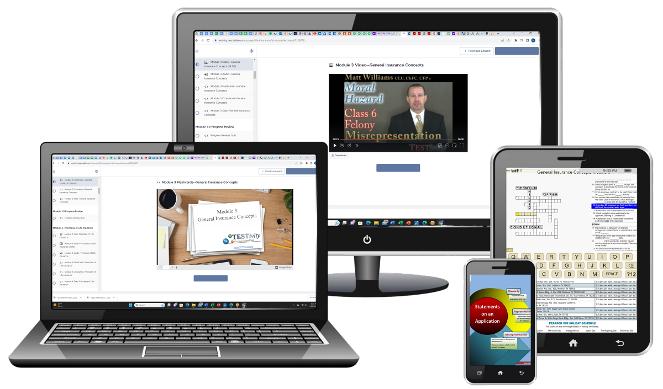 About the Life and Health Insurance License Exam
At TESTivity our delivery is efficient, yet thoroughly covers EVERYTHING that will be on the Exam. The Life & Health Insurance course is broken into 30 Modules. These Modules include:
Module 1--General Insurance Concepts
Module 2--General Insurance Concepts (Part 2)
Module 3--General Insurance Concepts (Part 3)
Module 1-3 Progress Review
Module 4--Principles of Life Insurance
Module 5--Underwriting
Module 6--Term Life Insurance
Module 1-6 Progress Review
Module 7--Whole Life Insurance
Module 8--Whole Life Insurance (Part 2)
Module 9--Variable Insurance Products
Module 1-9 Progress Review
Module 10--Group Life Insurance
Module 11--Life Insurance Provisions
Module 12--Life Insurance Provisions (Part 2)
Module 1-12 Progress Review
Module 13--Life Insurance Provisions (Part 3)
Module 14--Annuities
Module 15--Taxation of Life Insurance Products
Module 16--Qualified Retirement Plans
Module 17--Health Insurance Basics
Module 18--Required Policy Provisions
Module 1-18 Progress Review
Module 19--Optional Policy Provisions
Module 20--Medical Expense Insurance
Module 21--Group Health Insurance
Module 1-21 Progress Review
Module 22--Disability Income Insurance
Module 23--Accidental Death & Dismemberment Insurance
Module 24--Long Term Care Insurance
Module 1-24 Progress Review
Module 25--Dental Insurance
Module 26--Section 125 Plans & Limited Policies
Module 27--Federal Government Programs
Module 1-27 Progress Review
Module 28--Medigap & Medicaid
Module 29--Health Insurance Taxation
Module 30--State Insurance Law & NAIC Regulations
At LATITUDE Test Prep, we stand behind our products and back them with this Ironclad, No Questions Asked, Money Back Guarantee.
"If you go through our process and do not pass your insurance license exam, we did not do our job and we will refund 100% of your tuition. This guarantee is our commitment to you. It demonstrates the confidence we have in our products and in our ability to get you licensed. We are committed to your success and will always do our very best to Get You Licensed…Guaranteed!"
--Matt Williams, CLU, ChFC, CFP
Founder and Chief Instructor