Welcome to TESTivity. Your Premier Online Insurance School
Unlock your potential with TESTivity, the preferred choice for comprehensive insurance exam preparation. As America's favorite online insurance school, we specialize in professionally structured study material that closely emulates the State Licensing Exam, ensuring a streamlined study process that leads you to success.
Why Choose TESTivity?
At TESTivity, we're not just another online insurance school – we're your partner in achieving your goal of obtaining an insurance license. Here's why our program stands out:
Structured Excellence Our study material is thoughtfully designed to mirror the format and content of the State Licensing Exam. With TESTivity, you're effectively simulating the exam experience, giving you an edge on the big day.
Proven Success Our track record speaks for itself. TESTivity has helped over 50,000 individuals pass the insurance exam confidently, setting them on the path to a rewarding insurance career.
Years of Research Our course content has been meticulously developed over years of research and student feedback, ensuring that you're studying the exact material you'll encounter on the State Insurance Licensing Exam.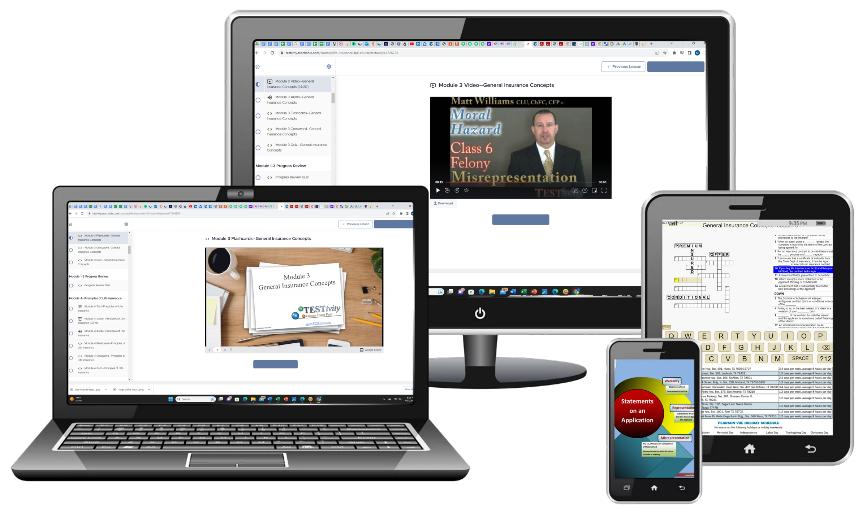 What We Offer
Comprehensive Study Material Our program covers every aspect of the insurance exam, leaving no stone unturned and providing you with a thorough understanding of the content.
Diverse Learning Tools With a variety of learning tools at your disposal, including expert video instruction, flash cards, audio reinforcement, crossword puzzles, and exam simulators, you'll find the perfect study approach that resonates with your learning style.
Exam-Specific Focus Our material is laser-focused on the State Insurance Licensing Exam, guaranteeing that you're well-prepared for every challenge you'll face.
Your Future Starts Here
Getting an insurance license doesn't have to be a daunting task. With TESTivity, you're equipped with the knowledge and tools to pass the insurance exam and embark on a successful insurance career. Let us be your guide on this journey. Explore our online insurance school today, and take the first step towards achieving your goal. Your future as a licensed insurance professional begins with TESTivity.
Different learning modalities have been identified and incorporated into the TESTivity Virtual Learning Experience. For example, inductive Vs. deductive; global Vs. analytical; linear, intuitive, systematic, visual, auditory, and kinesthetic.
We understand that everyone approaches learning differently…We've got

YOU

covered.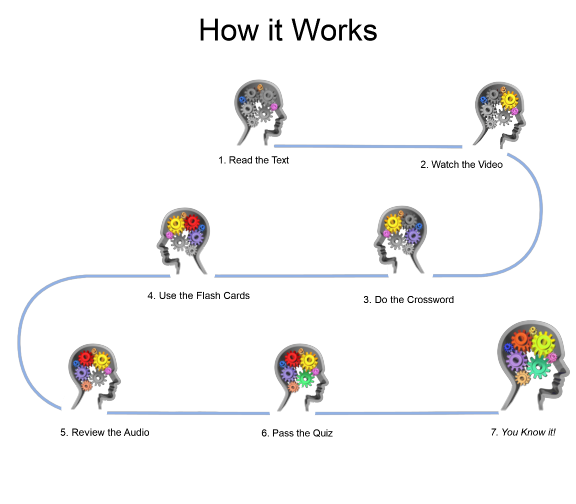 Our online insurance course replicates the live classroom experience with the addition of on-line learning aids not available in a traditional classroom environment. The flexibility of the Virtual Learning Experience allows you to learn on your schedule. The ability to stop, pause, rewind and repeat modules (or the entire Pre-license course) will enhance your understanding of key concepts and improve your retention.

The TESTivity Virtual Learning Experience uses a variety of tools and methods to tap into the preferred modalities you use to approach learning. While the content covered within each of our instructional tools is based on the exam content outline; providing several choices in instructional delivery allows you to match your learning preferences and strengths to the tools in the course that best help you retain the necessary information.
Do you have a favorite way of learning something new? A study method that works for you? Over the years we have seen massive amounts of research into adult learning modalities. The term "learning modalities" refers to all the different ways in which people absorb, process, retain and demonstrate what they know.
Much like the same shoe size doesn't fit everyone, neither does a single learning environment or instructional method. Insurance and securities license candidates come from different locales, cultures, life experiences and different educational backgrounds.
Our Guarantee
We stand behind our material and our process. We back it with an Iron Clad, No Questions Asked, Money Back Guarantee. When you complete our online licensing course and pass our simulated final exam you are ready to pass the actual State Insurance Licensing Exam and get your license...Guaranteed.
That's right…We guarantee you will pass. If you don't, we will refund 100% of your money.
"This guarantee is our commitment to you. It demonstrates the confidence we have in our product and in our ability to help you pass the exam. We are committed to your success and will always do our very best to Get You Licensed…Guaranteed!"
--Matt Williams, Chief Instructor
The
TEST
ivity
Virtual Learning Experience is a Comprehensive Pre-License Test Prep Course that will prepare you to
PASS the Licensing Exam on the 1st Attempt!
What our AMAZING Students Have to Say...