Fastest Way Get an Insurance License | TESTivity License Exam Prep
Study Smarter-Not Harder! Everything You Need to Pass the Exam & Get Your Insurance License
Online Pre-licensing Courses and Individual Self Study Insurance Exam Learning Tools. Guaranteed Passing Score
Believe it or not, getting an insurance license is NOT a complicated process. This page is devoted to breaking the process down to the smallest of details. You may want to bookmark this page because everything you could possibly want to know about getting an insurance license is covered here. You have stumbled upon the Holy Grail of insurance licensing FAQs...You should go buy a lottery ticket before your luck fades.
Much of what you need to know to get your insurance license is State Specific, don't be afraid to click away from this page; the state specific page is probably where you want to be anyway...
Regardless of what state you plan to get licensed in, there are only 4 simple steps to get an insurance license and set yourself up for a rewarding and lucrative career:
Study for your exam
Pass your exam
Get fingerprinted
Apply for your license
1. Complete the TESTivity Virtual Learning Experience
Let's face it, there are a lot of online insurance courses out there, it seems like a new one pops up everyday. Most of these "Insurance license test prep courses" are just a PowerPoint presentation salted with a few sample questions. Not here! Our Virtual Learning Experience is the most robust insurance pre-license course on the planet. We are the only insurance school to offer all of the following learning tools in every course: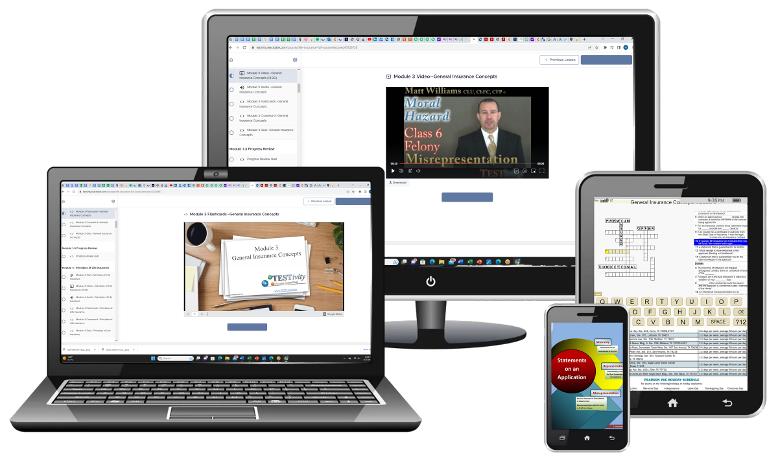 2. Pass the Exam
The insurance licensing exam is computer based, don't panic if you lack technical skills, taking the examination by computer is simple. You do not need any computer experience or typing skills. You will use fewer keys than you use on a touch-tone telephone. All response keys are colored and have prominent characters. You may also use the mouse. Check out our How to Pass the Insurance Exam page for samples and test tips.
3. Get Fingerprinted
Where do I go to get fingerprinted?
This question is not answerable if we don't know your location, but generally speaking the 3 best places to get fingerprinted are:
Testing Center

Most testing centers offer fingerprinting services, in fact some states require that you get fingerprinted at the testing center immediately after passing your insurance exam. Check out our state specific FAQ pages for details about the fingerprinting process in your state, but with few exceptions getting fingerprinted at the testing center is definitely the most convenient way to satisfy this requirement.

Law Enforcement

Quite often your local police station will offer fingerprinting services to the general public. Contact them directly before driving over there, it is common that they have very limited hours (maybe something like Wednesday 4-7PM).

UPS Store

Most, but not all, UPS stores offer fingerprinting service these days. Again contact them first to make sure that location can fingerprint you. Prices vary by location, but generally you pay $7 or $10, which is less than half of what they will charge you at the testing center!
4. Submit Your Application
Who issues insurance licenses?
The State Department of Insurance
Insurance is regulated by the NAIC (National Association of Insurance Commissioners). Each state has their own Insurance Commissioner and their own DOI (Department of Insurance).
Your Guide to Getting an Insurance License
The Key Role of Quality Insurance Exam Study Material
Becoming licensed to sell insurance opens doors to a fulfilling career. If you're on the path to obtaining your insurance license, you're likely aware that success hinges on the right preparation. Central to your preparation journey is selecting the right study material, a decision that can significantly impact your success on the Insurance Licensing Exam.
Step 1: Understanding How to Get an Insurance License:
The process of obtaining an insurance license involves several steps, from fulfilling pre-licensing education requirements to passing the Insurance Licensing Exam. This exam evaluates your knowledge of insurance regulations, policies, and industry practices, ensuring you're well-equipped to serve clients effectively.
Step 2: The Importance of Quality Study Material:
Choosing the right study material is paramount for effective exam preparation. Here's why:
Comprehensive Coverage The Insurance Licensing Exam covers a broad range of topics. The right study material ensures you grasp every crucial aspect, providing a solid foundation for success.
Strategic Preparation Structured study resources enable you to organize your study sessions efficiently. This is crucial for balancing preparation with other commitments and progressing methodically through the material.
Building Confidence Thorough study resources instill confidence by preparing you extensively for the exam. Confidence empowers you to tackle complex questions and scenarios with ease.
Enhanced Retention High-quality insurance exam study materials employ diverse learning techniques, ensuring you retain information effectively for application during the exam.
Step 3: The TESTivity Virtual Learning Experience: Streamlining Your Journey:
Investing in a structured online course, such as the TESTivity Virtual Learning Experience, can accelerate your journey to becoming a licensed insurance agent. Here's how:
Expert Guidance TESTivity offers the expertise of seasoned instructors well-versed in the insurance industry. Their guidance provides invaluable insights and addresses your queries promptly.
Structured Learning Path The TESTivity Virtual Learning Experience offers a structured curriculum that systematically covers all exam topics. This eliminates the confusion often associated with fragmented or unreliable study materials.
Interactive Learning Environment Engaging with peers and instructors in discussion forums and live sessions enriches your understanding with diverse perspectives and real-world scenarios.
Efficiency and Speed The TESTivity Virtual Learning Experience streamlines your study process. This structured approach helps you grasp concepts faster and apply them confidently during the exam.
Step 4: Maximizing Preparation with Learning Tools:
In addition to a structured online course, individual learning tools play a vital role:
Step 5: Securing Your Success:
The journey to becoming licensed to sell insurance demands careful study material selection. Investing in a structured online course like the TESTivity Virtual Learning Experience, coupled with individual learning tools, equips you for comprehensive preparation. This streamlined approach not only ensures success on the Insurance Licensing Exam but also accelerates your journey toward obtaining your insurance license. Remember, your investment in quality study resources is an investment in your successful future as a licensed insurance professional.